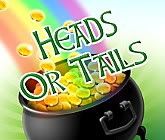 It's Tuesday once again it's time for our
Heads Or Tails
again
....
The theme/prompt for THIS week, October 13, is:
HEAD

S
- "

Cause

"
I just want to share the help done by the Philippine Navy to victims of storm 'Ondoy' in Cainta, Rizal. Actually I was awed when I saw many trucks of them passing through the main streets of our town on their way to Cainta Municipal Hall. Their help was in full blast after the storm where they distributed packages which I think thousands of relief goods to residents infront of our Municipal Hall, that's of course in coordination with our local government and private groups. I even went there with my friend Jen because her friend donated some goods also. They were the ones who were in the front door and will ask the purpose of all people coming in. I've also seen them clearing the streets and made sure that all drainage along Imelda Avenue were clear from litters.

They were really there for a
CAUSE
and that's to help their countrymen recover from the wrath of the storm in anyway they can be it in distributing relief goods, maintaining peace and order during distribution and rehabilitation efforts.