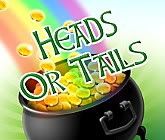 It's Tuesday once again it's time for our
Heads Or Tails
again
....
The theme/prompt for THIS week, September 22, is:
HEAD

S
- "Book" Use any form of the word "Book" in any kind of post.
These books are our family's favorite books which has its own particular use and benefits. We're a family of good readers from Granny (My Mom) to Little Kids. Just give or lend us an interesting book and we're all up to it. We passed it on until everyone finished reading it, of course if we share the same interest on the kind of book.

These two very important books are medical guide book and the Holy Bible. For physical sickness or when my kids gets ordinary sickness my Mom would read her medical book for some guidelines or first aid treatment that can be administered at home before rushing to doctor. Now for spiritual enlightenment and thirst for God's word we turn to Holy Bible for the complete guidelines in living this life. It's a complete guide on living as it shows the life of Jesus and chosen people which we can relate our lives in this present time. While the medical book can heal our body physically the Holy Bible can heal our spirits and lead us into a life centered to God.