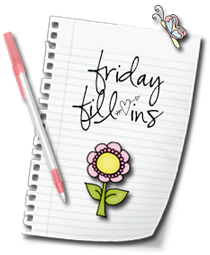 Graphic courtesy of Tonya!

And...here we go!


1. She had a great

love for us that's why my Mom devoted all her time and care to us, we love you Mom!




2. My mom

is my adviser.

3. I know this:

It is in the heart that one can see rightly.. What is essential is invicible to the eye... Little prince book



4. I want to start a business but I still

have other matters to prioritize.



5. These words apply to me:

friendly



6. The storms have stopped

,

the sun was shining.

7. And as for the weekend, tonight I'm looking forward to write some inspirational thoughts, tomorrow my plans include spending my time with my 3 kids and Sunday,

I want to prepare the foods for Sunday School, I'm the host.
Happy Friday to everyone!